and this is just blatant racism...
Oh yeah, and this... I think he was gonna say "cotton pickin'."
I'm not trying to start anything, but I have this feeling. Do you feel it? When you are in Walmart and you get those looks. You know the looks. I feel that this presidential election is the needle that shall prick the giant pimple of puss that will drown us all in a racially charged, bleak future for the good 'ol cotton pickin' U.S.

grandmother.

What did he say? Decide for yourself and read the transcript.

This video (below) could do without the repetition, but it still makes a point.

Oh yeah, if you were wondering... I have been quiet for too long. I'm Jeff Madlock..."What's $5 or $10 to me?"*

*ask me to tell you the story sometime.
CHICAGO - An Illinois high school senior is threatening to file a discrimination lawsuit against his school district after he says a teacher told him he fit the stereotype of a terrorist and humiliated him in front of his peers.

Maysam Amanishourbariki, 17, who was born in the United States and is of Iranian heritage, claims his Italian language teacher told him last semester that he fit the stereotype of a terrorist during an exchange in class over his clothing. He says two other students also called him a terrorist, which was reported to school officials. - FoxNews
I understand the same thing happened to Gaydolf Tittler when he ran for Governor of Ohio in 1937. (yeah I stole that from Jon Stewart - 2008 Oscars). At least it isn't affecting Barrack Hussein Obama...llama, dama, ding dong. Sorry, the 50's doo-wop always gets me when I say that name.

Well, it covers the Change and Unity aspect...

I really didn't see this coming...
**Hat Tip to ForgetFoO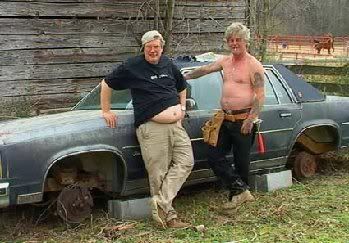 ....I've got a couple of friends that could use a job at HHS Tech headquarters. They say "they's good with computers".

Wad-da-ya-say?

Phynerk

CaraP's Sr. Recital



In other news, guess who's going to see Gordon Goodwin's Big Phat Band and Michael Bublé in the same weekend. This girl.

seashell

My next car